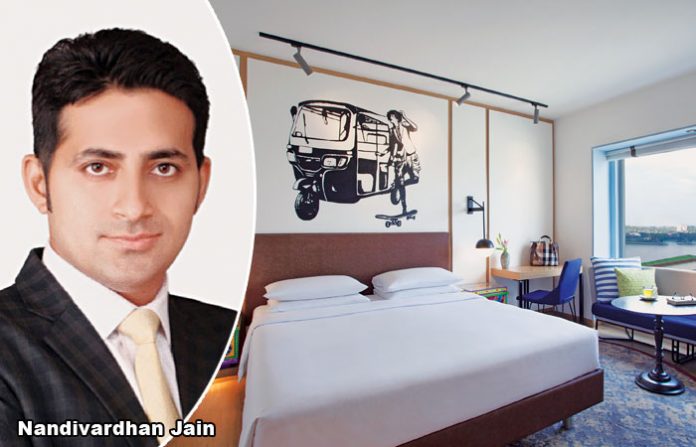 G20 events along with robust infra growth will drive hospitality industry in India to newer heights in 2023, opines Nandivardhan Jain.
After a difficult 2020 and 2021, the year 2022 showed positive signs for the hotel industry. Continued demand for domestic leisure destinations, rise in demand among the top 20 business cities in the second half of 2022 and strong demand for social and wedding events in Tier II, III, and IV cities were the real gamechangers of the Indian hospitality industry in 2022. This demand will continue to rise in 2023 as well due to strong infrastructure development work across India starting from airports, roads, and railways, which will add fresh demand. The G20 summit in India encompassing 200 events across 50 cities in the next 12 months is further icing on the cake for the hospitality industry. These events will generate 100,000 direct room nights and 200,000 indirect room nights requirement in 2023. In addition to this, these 50 cities have an opportunity to showcase themselves on a global platform.
Goa's second airport development is a classic example of infrastructure development correlated with the growth of the hotel, hospitality and travel industry. The existing Dabolim Airport, being a naval airport, has limited slots for civilian flights, due to which Goa's air connectivity growth was disrupted for the last few years. With the newly built Mopa Airport, air connectivity with new domestic and international destinations will improve substantially this year. One new inbound flight introduction to Mopa Airport will generate additional demand for 70,000 room nights annually.
In FY 23-24, hotels in Goa will witness a rise in average daily rate and occupancy by 10 to 12 per cent due to enhanced air connectivity.
One more such example of hospitality investment correlated with infrastructure development is the commencement of construction work for the Mumbai-Ahmedabad bullet train corridor. A few months back when bullet train development work commenced in Gujarat, it immediately gathered the attention of domestic and foreign investors for hotel acquisitions around bullet train station terminals in cities such as Surat, Vadodara and Ahmedabad.
Domestic leisure travelers fuelled up the leisure market with high demand due to uncertainty and restrictions in 2020 and 2021. In 2022 also, leisure travelers preferred to plan travel closer to the date and domestic travel was preferred to avoid uncertainty. In the domestic experiential leisure market, offbeat locations, home/villa stay, farm stay, staycation, and coastal destinations are the ones, which reported high demand. This market was largely driven by the young domestic travelers.
Based on the data of 150 villa owners across India, collected by the NOESIS research team, the reasons for strong demand for villas/homestays at rural and offbeat destinations were value for money, privacy, among others. The average return on investment (ROI), these villa owners are making, is within the bracket of 6 per cent to 10 per cent on the Capex incurred by them on today's valuation. In a few cases, ROI is as high as 14 per cent as well. Due to limited regulatory approvals and low Capex requirements in comparison to traditional resort/hotel developments we foresee strong supply adding up. Land cost is quite low in offbeat locations, which makes these projects quite profitable for the investor.
We foresee in 2023 all the hospitality and lodging formats at the macro level will break all their records of ADRs, occupancy, revenues, profitability, new project announcement, and fundraising. It is time to be prepared for the golden year.