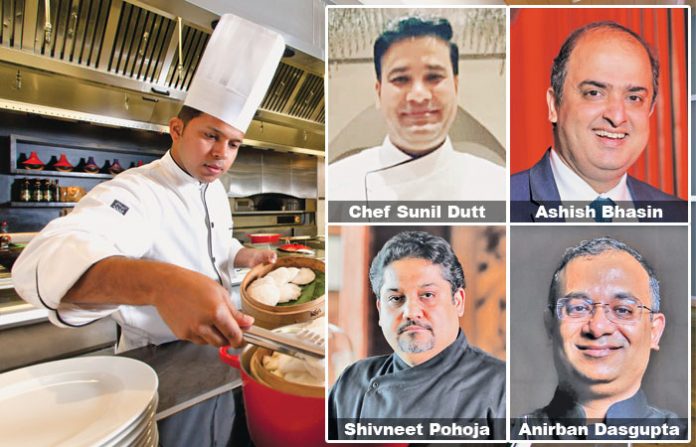 Leading culinary experts give sneak peek on what will rule our palate this year. Experts reckon that indigenous ingredients, Millets, among others will play decisive role in changing mindset towards healthy eating.
Lipla Negi
New Year brings new flavor from far and wide. While COVID brought healthy eating into sharp focus, the quest of taste buds continues to inspire culinary experts and enthusiasts alike to plate nutrient-rich meals that add a punch of both flavor and fitness to your lifestyle. "Post-COVID, there is also a shift in the mindset towards healthy eating, and I see this trend growing into 2023," said Chef Sunil Dutt, Culinary Director, W Goa. People are focusing on nutrient rich food options and not just taste. He further added, "Plant-based food has seen a continuous interest
among consumers."
Making a lifelong commitment to holistic well-being, Aujasya by The Leela was launched last year. Talking about the new program, Ashish Bhasin, Director, F&B Service & Culinary, The Leela Bengaluru explained, "Our culinary teams across the country have thoughtfully curated menus to achieve the right balance between health needs and gastronomic expectations by focusing on Millets, lean proteins, low-fat dairy, and whole grains. We have also tied up with a nutritionist who helps us tweak menus keeping nutritional needs and overall wellness of our clients in mind and just waistline."
The exciting Aujasya food menu includes dishes such as Pearl Millets Pessaratu, Sorghum Rava Idli, Sattu Paratha, Spinach and Himalayan Millets Risotto, Raw Jackfruit Masala Curry, Quinoa Biryani, and Ginger Millets Bread and Butter Pudding, among others. "The menu is quite popular among MICE groups," he said.
Marvel of Millets
This is the official year of Millets, and chefs across the country will be working out ways to put Millets on the centre table. Shivneet Pohoja, Executive Chef, ITC Kohenur elaborated, "Millets, the ancient grain, may soon acquire the stardom that it deserves. More and more diners are becoming aware of the benefits of Millets such as being a low glycemic grain and a suitable alternative grain for persons with specific allergies. "The year will see Millets don many avatars, and restaurants across the country have already started rolling out Millets-centric menus. In support of UN's initiative, ITC Kohenur has launched the Mighty Millets program where we offer a variety of Millets dishes such as Multi Millets pizza, Pearl Millets and Parmesan Khichda, Kodo Millets pancakes and little Millets and dark chocolate cake on our buffets throughout the day."
Reclaiming regional cuisines
Coupling culture and history, regional food has been one of India's strongest attractions for centuries now. Every region has its own cuisine, no less than a kaleidoscope of exotic spices and ingredients. With G20 Presidency, many such regional cuisines will find their moment of global celebration this year. Agreed Pohoja, "Pride in one's own heritage and cuisine will remain the guiding culinary principle for the year 2023. As chefs increasingly explore the world and its flavors, they will try to introduce unique flavors in their own style of regional cuisine." He further added that the days of chefs obsessing over elusive ingredients may be numbered as local ingredients will fuel creativity in cooking. "We will find that trendsetting restaurants would marry locally grown premium ingredients and lost techniques from heritage cuisine with the creativity of their initiated teams to present culinary experiences which are exciting and not seen before."
Old cooking style resurrected
In pursuit of great taste and flavor, chefs are turning to old cooking techniques for an unmatched food experience. Anirban Dasgupta, Director, Culinary, Conrad Pune, agreed, "I still believe in the old ways of cooking, and love to work with my hands to bring the naunces of a dish together. There is one culinary style that I believe in, however, and that is sous vide cooking of meats, which helps to intensify the taste and has encouraged me to think differently about the usage of technology in culinary."
Storytelling with food
Culinary and culture go hand in hand. Add a dash of storytelling to it and you got a perfect recipe of unforgettable dining experience for your guests. According to Bhasin, "We are going and getting the history out. Chefs who love to read history bring it out in the way they cook it as well as plate it. For example, it is fascinating to know when Babar came to India, why he brought certain ingredient from Central Asia and how the cooking style was further evolved when Akbar came in power. Every cuisine has a story to tell, and it enhances the flavors." However, he is quick to caution the chefs not to cut-copy-paste. "Modify it to suit the palate and take it to another level," he advised.
AI powered menus
For Pohoja, it is artificial intelligence (AI) that will bring next big revolution in the food business. He shared, "I am eagerly looking forward to an AI interface with the culinary world. While I still believe that cooking is one area that may not be completely taken over by bots, the infusion of machine intelligence in certain processes will make chefs more efficient and creative. Data driven menu compilation for specific demographics, ingredient listing by an AI bot based on a chef's qualitative description of flavor of the final dish and AI art generators recommending previously unimagined plate presentations are the kind of tech infusions that would happen very soon." He firmly believed that AI may not replace professionals, but professionals who can use AI will replace professional who cannot.