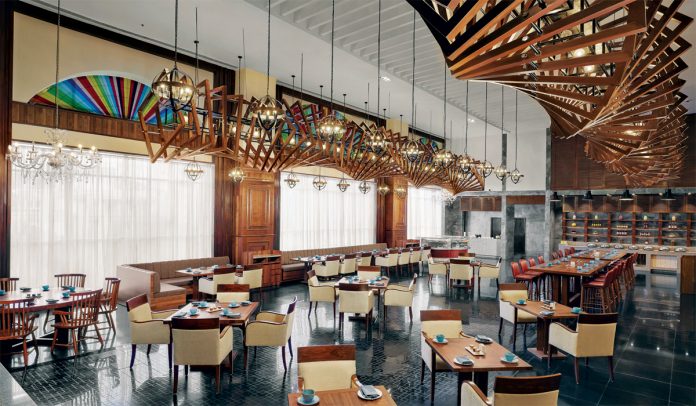 From resilience to revenue-minting roller coaster of a recovery, top industry leaders talk about rewriting the business of hospitality in 2022 and reshaping its future in 2023 with the power of sustainability & technology.
Lipla Negi
SUDEEP JAIN
MD, SWA, IHG Hotels & Resorts
2022 IN RETROSPECT
Guests have evolved and are increasingly becoming more mindful than ever about travelling responsibly. They are paying more attention than ever before as to how a hotel looks after the world around it, with an increasing number deciding whether to book a stay based upon a property's carbon footprint, sustainable practices and how it supports the communities in which it operates. As one of the world's leading hotel companies, we have always embraced our responsibility and the opportunity to make a positive difference as we help shape the future of responsible travel.
EXPANSION PLANS
Building on the commitment, IHG has launched a 10-year action plan called 'Journey to Tomorrow' that aims to make a positive difference to our people, communities and the planet. In addition to metros and other established tourism destinations, Tier-II and III markets in India will gain significance as more travellers are exploring these cities. We are well placed to cater to demands arising from secondary markets and have a strong offering for this segment across with our leading brands. Staycations and weekend leisure travel demand will continue to rise as well. With hybrid working model, people will experiment with their work settings, and we will continue to offer a seamless and comfortable 'workcation' experience with customized packages.
MAIN FOCUS
We currently have 45 hotels in South-West Asia across five core brands, out of which 41 hotels are in India. IHG is well-positioned to capitalize on the market demand and we are meaningfully expanding our presence across key markets in the country, with new signings and openings. In the next 2-3 years, we plan to add another 52 hotels in South-West Asia, out of which 42 hotels will be added to our portfolio in India. While our mainstream portfolio will continue to drive growth in line with market demands, we also see potential of debuting our global brands such as Regent, Kimpton, Voco and the recently launched Vignette Collection, at the right time with the right partners, at the right location.
AJAY BAKAYA
MD, Sarovar Hotels & Resorts
2022 IN RETROSPECT
We witnessed a 10-12 per cent year on year growth. We are facing serious challenges at the workforce front. We need to learn how to manage our people better. Flexibility on timings and hybrid systems are need of the hour when hotels want to retain their talent. We are planning to hire hundreds of apprentices. I see India on a boom—strong country under strong leadership, steady govt, stronger infra and an economy that can sustain itself—we are in a good spot.
EXPANSION PLANS
We have another 45 active hotels in the pipeline and under construction. We are getting stronger in tier II, III and IV cities. Smaller cities do not have strong infra hotel structure. Our portfolio is spread across the country in a strategic manner—40 per cent in North India, 25 per cent in West India and South India and 10 per cent in East India. We are growing stronger on Tulip brand and working on consciously strengthening and developing these brands in India.
MAIN FOCUS
Our main focus will definitely be on adding more rooms. I believe that RevPAR will surpass far ahead of 2019. I am extremely optimistic. There is this whole pent-up demand for travel. After a lull of two years, it is time for us to make some money.
PUNEET DHAWAN
SVP, Accor
2022 IN RETROSPECT
So far, this quarter, there has shown an impressive recovery and a substantial uptick in bookings, especially in metro cities such as Delhi, Mumbai, Bengaluru and Chennai. Owing to the ease in regional travel restrictions and the resumption of international operations, we are optimistic for the upcoming months and expect relatively longer booking windows. We are witnessing a strong growth for the corporate segment, which will continue to grow over the next couple of months. We foresee MICE segment to be a major contributing factor along with weddings in driving demand throughout the year. Restaurants and bars are back in full swing and driving higher revenues than pre-COVID times.
EXPANSION PLANS
We have a pipeline of four openings this year across India, with the aim to reach 70 hotels by 2025. We are eyeing sustainable growth in the Indian market across the economy, premium and luxury brands and are committed to holistic development involving our guests, owners and partners. Our mid-scale and economy brands, Novotel and ibis, have an extremely high brand recall in India with a strong focus on the meetings and conventions market, as well as the wedding market. We are also looking for the right partners as we expand our luxury brands such as Raffles, Fairmont and Sofitel, after the successful response we received for Raffles Udaipur last year.
All in all, the face of travel has changed completely, priorities have shifted, and while Indians discover their own country, the future of travel relies on the highest standards of safety amongst guests. Our focus remains on delivering the best experiences as we continuously evolve with new expectations and needs.
MAIN FOCUS
As of October 2022, Accor operates 56 properties across India and South Asia, with more than 10,000 keys, alongside 25 properties (5,000 keys) in the pipeline. Over the next 24 months, we are expecting to add six new properties to the network, two of which will debut in leading two-tier markets within India—Novotel Bhubaneshwar, Janpath Road and Novotel Jodhpur, ITI Circle. We will also continue to expand our ibis and ibis styles brands in partnership with InterGlobe Hotels by adding two more hotels in the next two years.
As we are witnessing a rising demand for luxury experiences in India, and as the leading hospitality group in the country, we aim to stay ahead of the curve. Our focus is to expand our luxury lifestyle portfolio in the coming years. We recently announced the signing of Fairmont Udaipur, set to open in 2024 with 340 rooms, committed to offering a place for special occasions and unmatched guest experiences at the most beautiful locations around the country.
DIMITRIS MANIKIS
President EMEA, Wyndham Hotel & Resorts
2022 IN RETROSPECT
We are on a strong growth trajectory in Incredible India, as the market is full of potential opportunities. This year, we crossed the 50th hotel mark in India, and we plan to add 25 more in the next three years, focusing on building mid-scale brands in Tier I and II cities.
EXPANSION PLANS
We are thrilled to expand our portfolio to make hotel travel possible for all by bringing more brands under the Wyndham umbrella into the market. We have several exciting developments in the pipeline that will further cement our presence in the region. We also continue to expand our corporate team in India to strengthen our support to our hotel partners and our overall growth strategy in the region. India is important to us not just because of the growth and adding new properties but also because of the talent, passion and bright future we see in the young people within our industry.
MAIN FOCUS
Specific trends that will continue to shape our industry next year and future include digital adoption and technology, sustainable hospitality, and the repositioning of the workforce. At Wyndham, we continue to invest in technology that best supports our hotel partners and enhances the overall guest experience. For instance, our new mobile app prioritises low-contact in-stay features to provide travellers with a reimagined user experience to inspire their upcoming travel plans. Sustainability is a key area of focus for us as we remain committed to protecting the environment in which we live, work and enjoy.
JB SINGH
President and CEO, InterGlobe Hotels
2022 IN RETROSPECT
The industry witnessed some of its best performing months this year with recent months surpassing the pre-COVID performance levels of 2019 which indicate that demand is not only back, but it is sustaining. This was largely driven due to easing of COVID restrictions, resumption of domestic travel and international flights, strong leisure travel demand and gradual return of corporate travel. Now, with the festive season approaching, the market remains optimistic and welcoming and demand across the board remains strong. Hotel markets that are dependent primarily on the business/corporate segments will see a stronger December compared to October.
EXPANSION PLANS
The portfolio represents one of the most sizable financial commitments in the mid-market segment by an Indian business house and an international hotel brand. Apart from the 26 operational hotels in various Tier I and II cities, we have a solid pipeline of four under construction hotels (600 plus keys) today including 2 Ibis (Thane and Mumbai), one Ibis Styles in Goa and an upscale hotel in Bangalore. We plan to open Ibis Thane in 2022-23, followed by Ibis Styles in Goa in early 2023-24. Therefore, the next three years are important for us from an expansion point of view, with four new, very thoughtfully designed hotels with high-quality rooms, state-of-the-art meeting spaces and colorful public areas to open.
MAIN FOCUS
Our focus has always been towards providing holistic customer experience, for instance, our hotels offer India's longest-running breakfast, from 4 am until noon, keeping up with the needs of business travellers. The hotel also offers 24-hour operational fitness centre. The hotel features progressive technology, including digital menus in the restaurant, mobile check-in, and access to OTT entertainment channels in the rooms, making it the ideal choice for business and leisure travellers. Furthermore, our new-generation design provides interactive and pleasing public spaces are sizeable and expansive with fantastic external views that the guests and visitors can enjoy all day long.
ABINASH MANGHANI
CEO, WelcomHeritage Hotels
2022 IN RETROSPECT
We have seen a 72 per cent growth in volume and 26 per cent growth in ADR with 105 per cent increase in unit turnover this year as compared to last year. Travel is slated to remain on the top of people's lists of things to do within the domestic market. In the coming years, we foresee a solid shift towards innovations with regards to operations and services. Digitisation, virtual and augmented reality will proliferate the industry even further. Sustainability and experience-led offerings will continue to be in the spotlight for the evolving hospitality industry as well as the modern domestic traveller.
EXPANSION PLANS
We have three planned openings coming soon, WelcomHeritage Azora in Fort Kochi, WelcomHeritage Ayatana in Ooty and WelcomHeritage Parv Vilas Resort & Spa, Kasauli Hills in Solan. Our properties in Indore and Dungarpur are in the pipeline. We are also looking at expanding our presence in East India. We plan to have 55 hotels by FY 2025-26 with 2,000 keys in all.
MAIN FOCUS
Since its inception and through these 25 years, WelcomHeritage is committed to showcase India's spectacularly rich cultural and natural heritage with our guests' comfort on top priority. To this end, the brand continues to introduce services that facilitate both. While expanding our presence to include newer destinations in the hills, wilderness, cultural seats of the country as well as remote lands, we are consciously crafting destination experiences for authentic and fresh perspectives. Our recent introductions of 'Buy now, Pay later', Onefinerate a digital platform that enables distribution of WelcomHeritage Hotels room inventories and special rate plans directly to travel agents, Revinate, an online reputation management tool that enables us to collate reliable, actionable data on guest satisfaction and hotel performance to be able to apply our learnings better reflect these trends. WelcomHeritage is taking significant strides towards aligning with sustainable practices with initiatives such as increasing use of renewable energy through solar power, installing EV stations and smart-energy sensors for electricals among other measures.
SARBENDRA SARKAR
Founder & MD, Cygnett Hotels & Resorts
2022 IN RETROSPECT
This year has seen a strong revival of the hospitality market primarily driven by domestic tourism demand. Be it weekend travel, or longer breaks during the holiday season, the demand from domestic markets has been overwhelming. Going ahead, 2023 is going to be a landmark year for the hospitality market with demand surpassing even pre-COVID years. As a hospitality chain, we are expecting the occupancy level to be above 80 per cent. We expect Indian domestic travellers will be keen to explore lesser-known destinations like the North East in 2023. The wedding segment and other celebrations will be a huge demand generator for Indian hospitality players next year.
EXPANSION PLANS
We have recently added new hotels in places such as Dehradun, Jaipur, Bhubaneswar, Tezpur, Vrindavan and Bikaner and going forward we are well placed to achieve our target of 100 hotels in the next five years. Besides 4 to 5 projects in the North East, we are looking to open new properties in markets such as South India, West Bengal, Uttar Pradesh, Goa, Rajasthan, Odisha, Uttarakhand and Himachal Pradesh to name a few. Our growth strategy will focus on smaller markets that have a lack or no presence of branded hotels. We also will focus on meeting the demand gaps in the market. We have seen that there is a vacuum in the space of offering boutique resort experiences in a budget-friendly manner.
MAIN FOCUS
We have a target of adding more than 5,000 keys to our portfolio in the next five years, so, of course, rooms are a very important part of our future plans. It is our constant endeavour to maintain the high service standards that we already have in place in our existing hotels and replicate the same in our new additions. Also, adding new technology and upgrading the existing technology is a focus area.