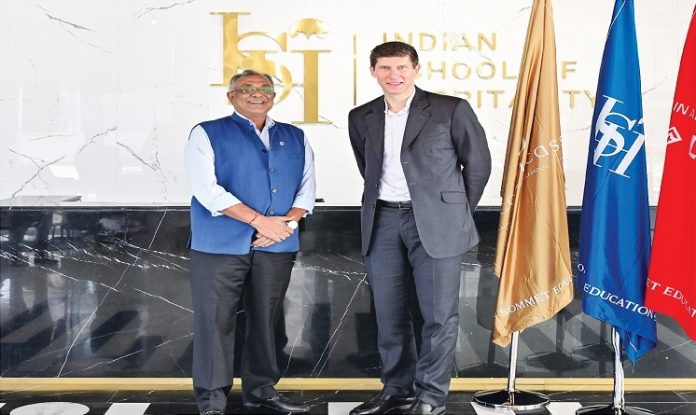 With global expansion in mind, the ISH partners with Sommet Education at a time when the sector is on the cusp of revival and renewal
Lipla Negi
Collaboration creates a multiplicity of opportunities and possibilities, especially when two like-minded industry leaders join hands to pursue a common vision. With an ambition to become the largest hospitality and culinary arts education players in India by working together, the Indian School of Hospitality (ISH) and Sommet Education recently shared plans for their India business at an event in Delhi NCR. The plans celebrate their partnership and serve as a blueprint of all that the two leaders hope to achieve in the near future.
"For Sommet Education, this alliance creates the opportunity to leverage ISH as a springboard into India and the region. As a dynamic young economy, India is the perfect development platform for international education brands to invest in and innovate," says Benoit-Etienne Domenget, CEO, Sommet Education. While École Ducasse has now opened its first campus in India at ISH with this partnership, Les Roches enters into an academic alliance with ISH for its undergraduate and postgraduate hospitality management programmes.
The partners have already chalked out a plan to expand the current ISH Gurugram campus to feature an additional 25,000 sq. ft., of classrooms, training kitchens, and student experience areas. This expansion will increase the capacity of the campus to over 500 students and is expected to be operational by early 2022. "We are also evaluating opportunities for a second campus to be located in Mumbai, Bengaluru, or Hyderabad," shares Dilip Puri, Founder and CEO, ISH. There are also plans to launch a network of École Ducasse studios in select cities across India that will cater to the needs of professionals, enthusiasts, and career changers for upskilling and acquiring new skills.
Addressing the impact of the pandemic on the hospitality sector, Puri says, "It has become imperative for education to move hand in hand with this evolution to reflect and serve the needs of the industry. Factors like digitalisation and technological advancements have propelled this change. Updating education delivery and pedagogy, globalisation of the curriculum, better infrastructure, and industry immersion are some of the key dynamics of this partnership that will help provide a global quality of education and prepare students to lead the industry tomorrow."
The pandemic pushed the hospitality industry to rethink and reinvent itself, with an additional focus on health, safety, and wellness. The industry is also realising the need to upskill and reskill existing and future employees, and this is where hospitality institutes are helping professionals stay relevant. "The hospitality institutes have restructured and realigned their curriculum and learning methodology to meet the industry's evolving requirements. For instance, digital and technology incorporation has increased greatly, be it in products, operations, or customer service. In that respect, we not only use the best of technology to impart education to our students, but also equip them with the technological know-how to ace in the sector through quintessential courses such as digital marketing, safety and wellness, service operations, and emerging technologies. The programmes help you attain future-proof skills," informs Puri.
Domenget believes that education is the key to the recovery of the hospitality sector. "With a diverse tourism portfolio, India has been successful in enticing international travellers. The increasing variety of traveller types requires the future hospitality leaders to learn from institutions that offer a globally focussed curriculum and opportunities to gain experience abroad." To tackle the pandemic-induced challenges, Puri feels, "It is vital for organisations to invest in employees' upskilling and reskilling. These include proficiency in soft and life skills, technological agility, and adaptability. The industry must now work closely with academic institutions and have more training programmes for their employees."
"Updating education delivery is one of the key dynamics of this partnership"