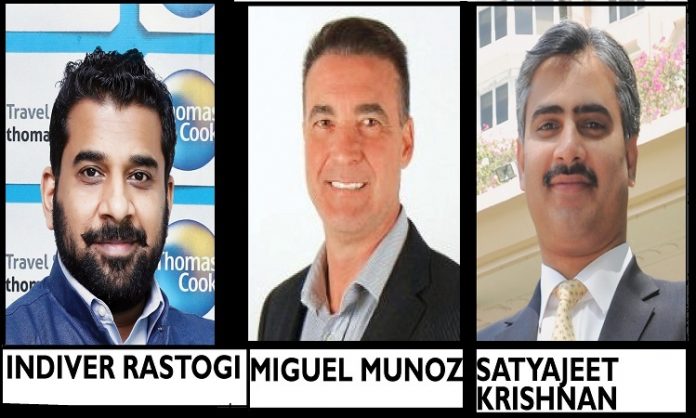 COVID-19 led to many festivals being cancelled in 2020. As much as the pandemic has affected the patterns of working and conducting business, it has had its clear upsides in terms of spotlighting domestic tourism.
Ananya Kukreja
The COVID-19 crisis has had its upsides in spotlighting domestic tourism. Ease of domestic travel enraptures the pent-up travellers' desire, creating opportunities for the hospitality sector. The continued demand for mini vacations or staycations is a big contributing factor to festive weekends becoming busier this year. Resident city hotels will experience a considerable boost in banquet bookings.
Cautious benefit
Guests are opting for air inclusive stays of seven to 10 days. An appetite for celebrations is being witnessed from millennials, groups of friends, corporate M!CE, and wedding segment, says Indiver Rastogi, President and Group Head of Global Business Travel, Thomas Cook (India) and SOTC. Festive and bank holidays are creating an additional opportunity with travellers extending their stays. Also, high in demand are experiences such as biking, hiking, camping, jungle safaris and picnic lunches, and the industry is rising to the occasion to offer such value additions.
Mahindra Holidays have seen a great uptick in the demand for leisure travel this festive season. Travellers are choosing trusted brands as their vacation partners, says Miguel Munoz, Chief Resorts Officer, Mahindra Holidays and Resorts India Limited. Club Mahindra resorts have obtained the highest level of certification in safety and hygiene standards from 'Bureau Veritas'. They also launched 'Travel with Confidence' initiative. Club Mahindra also craft unique experiences around the interests of guests.
At IHCL, there is traction on the 'Dekho Apna Desh' festive offer that gives guests an assortment of exclusive experiences. Ambassador, New Delhi, and The Connaught are witnessing significant buoyancy for the festive weekends and shorter booking windows. After the journey of transformation and re-opening of Machan, the hotel introduced bespoke Machan memorabilia as gifting options and special hampers for children. The Chambers was re-launched this year and has a range of gifting solutions in designer baskets and boxes. Emperor Lounge features gourmet selection of handcrafted savouries and artisanal bakes along with a collection of tea and coffee.
The Art of Gifting at Taj Mahal, New Delhi, offers limited edition lux merchandise and gourmet delights. Taj Mahal observed a steady increase in the guests visiting their restaurants for festive dining. With Tajness – A Commitment Restrengthened – the assurance of IHCL's augmented safety protocols, they are privileged to be a part of the guests' festive celebrations, states Satyajeet Krishnan, Area Director New Delhi and General Manager, Taj Mahal New Delhi. The demand for exclusive events and memorable destinations are growing. To cater to such demands, Taj Mahal Lucknow ensured customised services and packages under COVID protocols, mentions Vinod Pandey, General Manager, Taj Mahal Lucknow.
Uptick weddings
Hospitality organisations are observing a strong uptick in weddings and related events. Corporate travel is showing signs of life, and Thomas Cook expects to be at 65 per cent of pre-pandemic levels by the end of the year, working with partner hotels to see a growth in business travel and b-leisure. The Taj Mahal, New Delhi, is a preferred venue for social gatherings and intimate weddings, curated by their culinary, service, and sales teams.
Weddings in city hotels are on the rise for the upcoming season. It is easier for city residents to host events in their hometown. Travel to international places is still limited, however domestic leisure destinations are expanding with individual travel; this makes city hotels a prudent choice.
Way forward
The hospitality industry will enjoy exponential occupancy from festive bookings by Q4 2021 and Q1 2022. The sector is seeing a surge in demand from city residents and nearby areas. Diwali bookings soared significantly. Top venues are sold out for Christmas and New Year's.
The firms that go above and beyond to ensure the safety of their guests must be credited for building this trust. While many people celebrated in their home comfort even before COVID-19 struck, many others continued to celebrate as flamboyantly as they could even during the peak of the pandemic.
"The socioeconomic conditions after COVID-19 have altered the travellers' mindset"
Indiver Rastogi
"Travel desire has created a significant opportunity for the hospitality sector"
Miguel Munoz
"People are opting for destinations at drivable distances"
Satyajeet Krishnan
"The trend has been positive and buoyant this festive season"